---
HIGUERA ADOBE
---
On October 4, 1821 a land grant of 4,394 acres was issued by Pablo Vincente de Sola, the last Spanish governor of California, to Josè Higuera. Higuera named his land, Rancho Los Tularcitos ("place of the little tules"). Early title transfers however, list the name as Rancho San Ignatio. The rancho stretched from the confluence of Calera and Pennitencia creeks in the northwest to a large live oak tree that marked its southeastern corner (near present day intersection of Abel St. and Calaveras Blvd.). South of Rancho Los Tularcitos was the land of Pueblo de San José. The land grant was renewed by Mexican Governor Juan B. Alvarado on February 18, 1839. When the United States acquired California as part of the Mexican Cession, an application was filed with the federal government to a patent and this was issued on July 8, 1870.

In 1828, Higuera built an adobe house near Arroyo Calera and a few years later built another nearly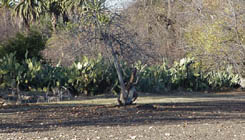 200 feet south along the creek. It is most likely the labor for these constructions was provided by the local Muwekma Ohlone Indians living near Mission San José. A few hundred feet to the southeast stood an ancient temescal or sweat house (sauna) used by the local tribes in ceremonies. Around the rancho's central compound, prickly pear cactus was planted to form a hedge. Part of this original hedge may be seen today by looking east from the adobe. The pepper, fig, and olive trees surrounding the present park are historic, believed to have been planted by Josè Higuera in the 1830s.

During the time of the Mexican War, the adobe was the stopping place for a detachment led by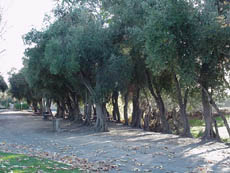 Francisco Sánchez. At that time, it was known as the hacienda of Don José Higuera. Sanchéz had six American soldiers with him, one was Lieutenant Washington A. Bartlett, acting alcalde of San Francisco (It was Barlett who renamed the village known as Yerba Buena to San Francisco). They had been captured by Sanchéz while looking for food south of San Francisco near Sixteen Mile House. After enjoying the hospitality of Don José for two days the detachment moved on to the south.

Don José was host to merrymaking of a more peaceful nature on other occasions. One of the most memorable was the marriage of his beautiful granddaughter, Margarita to Nicolás Chavarria. It is said the fiesta continued day and night for three days and was attended by hundreds of well-wishers.

Margarita was the daughter of Valentin Higuera. He sold his portion of the Rancho lands to Clemente Columbet for the princely sum of $3,000. Columbet had operated a hotel in San Jose in 1849. He added a second story to the adobe and divided it into bedrooms. He turned the large single room downstairs into a reception room. To attract customers to his countryside "resort" he ran a coachline to connect with central Milpitas, then nearly two miles distant. After a short time it became obvious that his country hotel would not earn the profits he had hoped for, so he closed it.

When his business failed, Columbet sold his interest in the property back to Valentin Higuera who subsequently sold it to Henry Curtner, a native of Vermont who had come overland to settle in Milpitas. Curtner built a fine house on the site of the Indian sauna. He ran cattle and farmed the land. The adobe of Don José became a bunkhouse for workers on the Curtner ranch. In time, the second story added by Clemente Columbet in the 1860s, deteriorated and in the 1950s was removed.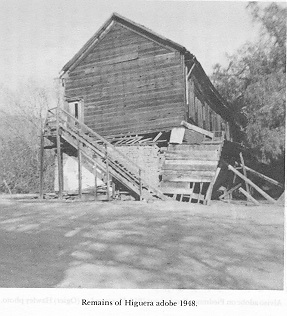 The building you see today is a shell built by Marion Weller, Curtner's granddaughter, in the early 1960s to preserve and protect the ruins of the old adobe. In the 1970s Mrs. Weller gave the adobe, the nearby wooden building known as the "Casino" and the adjoining acreage to the city of Milpitas. Shortly thereafter the city tore down the brick wall and added a kitchen and indoor restrooms to the south end of the adobe. For over a decade the building was rented for Scout meetings, birthday celebration, and wedding receptions. Following the Loma Prieta earthquake in 1989, extensive restoration and reconstruction was necessary to make it safe for the public. In 1993, the city built public restrooms adjoining the kitchen addition. Today there are historical exhibits in the adobe which can be visited by special arrangement with the city.